All Airport Sedan Service is a specialized transportation company that provides to single clients, families, travel agents, and the corporate VIP's.Our clients always feel that they get the personal touch.We have friendly phone operators that will get to know our clients to better assist them.
Address: Los Angeles, CA, 90001
Click here for see the full address
Website: All Airport Sedan Service
Phone Number
When requested by our clients, we send their favorite chauffeurs to be their regular drivers in order for them to get to know them better. We consider our clients are friends and we value customer service and making all of our customers happy and satisfied.
Insurance
All of our vehicles are licensed and fully insured as obligated by law.
Fleet
Our fleet is comprised of late model luxury vehicles that include sedans, stretch limousines, 7 passengers SUV's, and super stretch SUVs. All vehicles are routinely inspected and our chauffeurs strictly adhere to scheduled maintenance and operating condition of vehicles daily.
Chauffeurs
Having chauffeurs who have at least 10 years of driving experience and not only take pride in the service they provide, but also in the company that they represent, it is part of our total commitment and team effort to provide our clients with a truly first class service. Our chauffeurs besides being extremely courteous, they aim to deliver the smoothest ride possible from beginning to the end at all times. The chauffeurs are also drug tested by our company on regular basis to make sure that the passengers are safe in our vehicles at all times.
Rates & Billing
Our company offers the most competitive rates in the industry for our type of service. We accept check, Visa, Master Card, and American Express. We use a standard voucher system for our corporate accounts and our billing system can be customized to suit each client's individual needs.


Contact here


Address and Phone Number
19350 Sherman Way, Apt 322 Los Angeles, CA, 90001



Website: All Airport Sedan Service All Airport Sedan Service is a specialized transportation company that provides to single clients, families, travel agents, and the corporate VIP's.
Mike - our private guide
in Belgium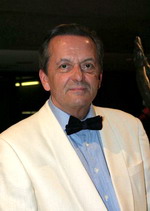 Our Private guide in Belgium has 40 years of tourism and hotel business experienced. Private guide in Belgium Mike able to recognize his guests, and to give them exactly what they expect and to take the appropriate attitude to their personal preferences and needs ( history, arts, sites, nature, local gastronomy, etc) Private tours of this guide in Belgium.
Private guide
in Belgium
is waiting
for you!!!