The Beach House Inn offers pet friendly accommodations, reasonably priced hotel rooms, kitchens and multi-room suites, a convenient downtown location, discount rates, and family vacation packages in Santa Barbara, California.
Address: Santa Barbara, CA, 93101
Click here for see the full address
Website: Beach House Inn
Phone Number
Beach House Inn


The Beach House Inn & Apartments is a unique, moderately priced Inn conveniently located in the West beach Area of Santa Barbara, California.

Offering a wide range of features, amenities and discounts for vacation and business travelers, the Beach House Inn & Apartments is the perfect hotel choice for a memorable business trip, romantic weekend or fun vacation.

The Beach House Inn is conveniently located in West beach, just minutes from popular local attractions, such as area beaches, the Santa Barbara Zoo, State Street shopping, harbor , Santa Barbara Yacht Club and the Santa Barbara Mission. Our hotel offers unique features, comfort and convenience with easy access to the freeway, the Santa Barbara Airport and many of the area's best-known historic monuments, shopping centers, museums, and nightlife only steps away from our cozy hotel.

The Beach House Inn offers eight comfortable rooms and four suites with extra amenities you don't find at other local hotels. Enjoy our uniquely decorated guest rooms, all with comfortable beds, great features and a wide range of extra amenities. Start your day with complimentary coffee in our relaxing private courtyard, enjoy the convenience of our in-room kitchens and free high-speed Internet access, and relax at our quaint hotel's quiet residential neighborhood location.

The pet friendly Beach House Inn welcomes dogs with a smile. Our large suites and rooms offer plenty of space for you and your favorite four-legged friend. And with great features like full kitchens, soaker tubs, fireplaces, and easy beach and park access for you and your dog, you're sure to have a great stay in Santa Barbara, California.


Contact here


Address and Phone Number
320 W. Yanonali Street Santa Barbara, CA, 93101



Website: Beach House Inn The Beach House Inn offers pet friendly accommodations, reasonably priced hotel rooms, kitchens and multi-room suites, a convenient downtown location.
Mike - our private guide
in Belgium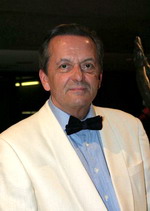 Our Private guide in Belgium has 40 years of tourism and hotel business experienced. Private guide in Belgium Mike able to recognize his guests, and to give them exactly what they expect and to take the appropriate attitude to their personal preferences and needs ( history, arts, sites, nature, local gastronomy, etc) Private tours of this guide in Belgium.
Private guide
in Belgium
is waiting
for you!!!