Our Story originates from humble beginnings over 16 years ago. The vision of one evolved into the global execution of transportation services. Our fleet has expanded from a single car to over 30 state-of-the-art vehicles. Our Team has been strategically assembled from multiple disciplines specific to our industry. Every employee from an executive level to customer service has knowledge and experience that contributes to the company's long term goals.

Address: Malibu, CA, 90265
Click here for see the full address
Website: Gemstar Limousine
Phone Number
Our Passion for success moves each staff member to take the initiative in providing that "something extra" in hopes of standing out from the competition.
Our Commitment has always been to settle for nothing less than to exceed our client's expectations on a daily basis. The consistent satisfaction our clients feel, fuels our dynamically growing customer base. We invite you to experience all that we have to offer.
Our Customer Service is our highest priority! Every team member is willing to go the extra mile to meet a client's needs, creating dependability
Include:
Gift Certificates
The perfect gift for family members, friends, and co-workers is a Gemstar Limousine Gift Certificate. At Gemstar, we provide a pre-paid form of transportation, amount redeemable for all services.
Airport Transportation
This is one of our most popular services. All clients both private and corporate utilize this service, replacing the frustration of parking at the airport for long term parking. Our pick up / drop off service will pick you up at your desired location and safely transport you to your desired terminal. A Gemstar vehicle will be waiting for you outside your terminal when your flight arrives.
Airport Meet & Greet Host
Our Meet & Greet airport service provides a private and secure way of traveling to and from the airport. When you are departing, a certified staff member will meet you curb-side and assist in your check in process. After you are checked in, you will be escorted to the airline's designated VIP Lounge. Upon your arrival, you will be greeted in the baggage claim area by a host with your parties name. After your luggage is safely in your hands, you will be escorted to your fully appointed Gemstar vehicle.
City Tours
Our city tour service includes the option of our team planning the destination route, or simply assisting in the coordination of a day tour with any size group.


Contact here


Address and Phone Number
28955 Pacific Coast Highway Malibu, CA, 90265



Website: Gemstar Limousine We provide personalized, friendly, and professional services for all your transportation solutions 24 hours a day, 7 days a week, 365 days a year.
Mike - our private guide
in Belgium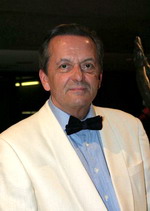 Our Private guide in Belgium has 40 years of tourism and hotel business experienced. Private guide in Belgium Mike able to recognize his guests, and to give them exactly what they expect and to take the appropriate attitude to their personal preferences and needs ( history, arts, sites, nature, local gastronomy, etc) Private tours of this guide in Belgium.
Private guide
in Belgium
is waiting
for you!!!